After months of product testing and training, we're proud to announce that DWR garage is now officially certified by i+g Glass Coating, one of Japan's most advanced vehicle body paint protection technology. Find out more on this amazing glass coating from Japan, exclusively brought to you by DWR garage and i+g Glass Coating Japan by clicking on the link below. Reach out to us if you have any further queries on this glass coating, quotation/appointment for your beloved ride!
What is the glass coating?
Most advanced vehicle body paint protection technology in Japan. The glass coating film will be damaged by various harmful substances, such as UV rays, acid rain, bird droppings and pollen etc, in place of vehicle body paint surface and provides a durable high gloss finish. You do not need to wax or polish anymore and can maintain a brilliant shine from a simple car wash.

Why ?
Harmful substances are shut out,and vehicle body paint surfaces are perfectly protected.
"i+g Coat" forms a glass coating with an enough level of hardness on the top layer and, therefore, it absolutely protects vehicle body paint from substances that can damage the car coating. This coat prevents the body paint surfaces from becoming dirty and scratched at a high level and guarantees its high water repellency.
The coating can be applied efficiently in a short amount of time, so the service can be offered to customers at a low cost.
The highly efficient workability of the coating enables swift job completion. "i+g 1Y Glass Coating" takes approx. 2 hours, which is shorter in comparison with a coating using a polisher.
That helps reduce the amount of time the customer waits.
Application of the fluorine-based resin coat as the primary coat protects the surfaces of vehicle body paint and eliminates cracking of the hardening glass coat from body distortion when the car is running.
Since no polisher is used, the coating can be applied faster and no heat is generated, thus "i+g Coat" can be used on the latest high-performance vehicle body paint, which repairs any scratches on the surface by itself as time goes by.
The coat takes approximately three hours to harden and 24 hours to set completely.
*Keep rain away from the coating for 24 hours after application.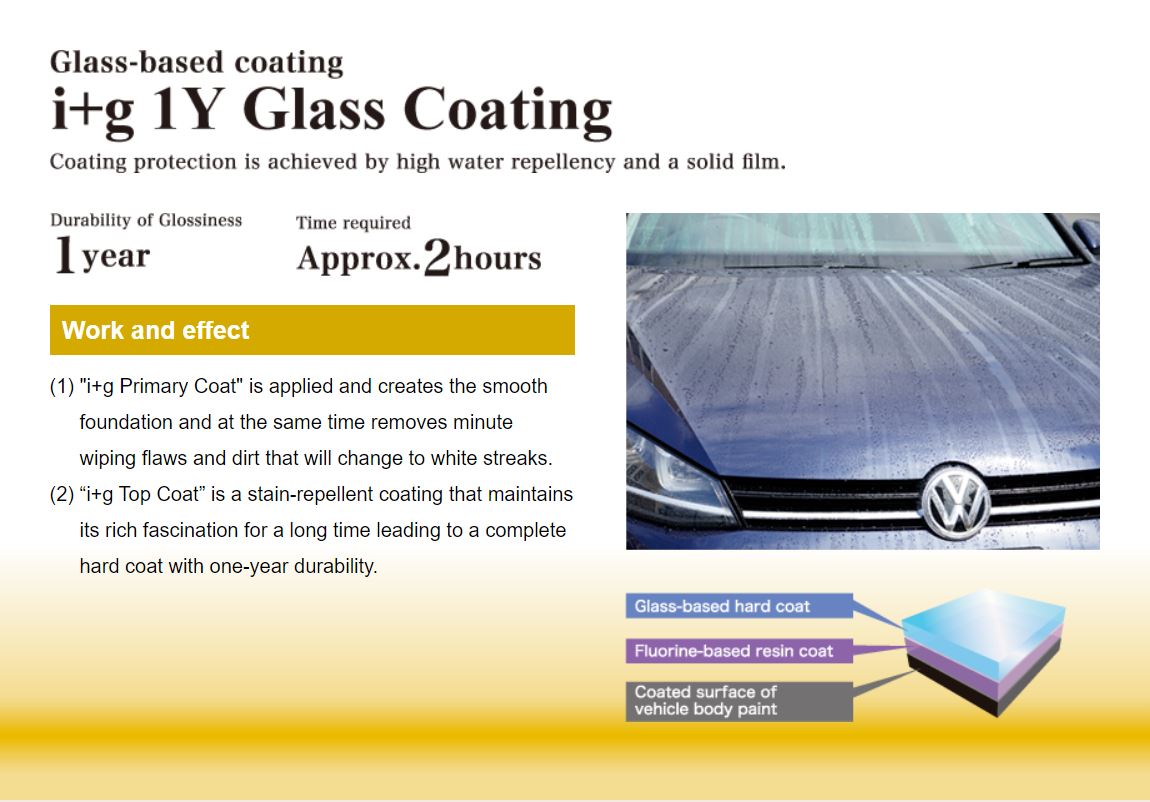 Contact us for a quote and appointment for your beloved ride today, visit us at DWR Garage.